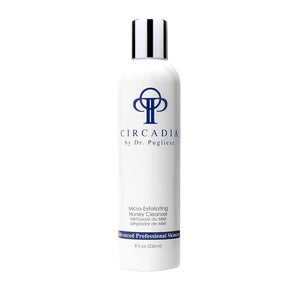 CIRCADIA Micro Exfoliating Honey Cleanser
Description
Patented microbeads of natural beeswax gently cleanse and exfoliate while absorbing excess oil. 
Gently exfoliates, leaving the skin silky and smooth
Naturally oil-absorbing and hydrating at the same time
Fragrance-free and sulfate-free
Gentle enough to be used daily
Good for all skin types
 Size: 8 fl oz (236ml)
Mian Ingredients

Stepan Mild PCL (Sodium Methyl 2-Sulfolaurate, Disodium 2-Sulfolaurate, Sodium Lauryl Sulfoacetate): A mild cleansing agent that uses surfactants, generates foam and allows for pH matching that of the skin, resulting in a pleasant after feel.
Organic bees wax: Gently exfoliates the skin while absorbing excess oil
Cocomidopropyl betaine: Foaming agent derived from refined coconut oil, gentle and biodegradable
Directions
Dispense a dime-size amount onto fingertips and apply to face. Gently lather and rinse well. Pat dry and apply Vitamin C Reversal Serum.